The Amsterdams @ Purle Turtle
Date:
Wednesday, March 02, 2011 7:00 pm - 11:59 pm
Duration:
4 Hours, 59 Minutes
Una dintre cele mai apreciate trupe romanesti de rock ale momentului se afla in Marea Britanie, intr-un mini-turneu de promovare a noului album Electromagnetica, concerte sprijinite de ICR Londra.
Andrei Hategan (voce & clape), Andrei Ungureanu (chitara), Ovidiu Bejan (chitara & voce) si Augustin Nicolae (bass), aka The Amsterdams, iau cu asalt cluburile londoneze, cu muzica rock, pop si indie folk, iar Color Nurse completeaza show-ul cu elemente video.
The Amsterdams au luat fiinta in Bucuresti, in 2006. In cei cinci ani de activitate au lansat doua materiale discografice si au sustinut concerte pe scena festivalurilor BestFest, Peninsula si Stufstock (Romania), in cluburi din tara si din Olanda, Marea Britanie, Austria, Cehia si Italia. In 2010, la Bucuresti, The Amsterdams a concertat in deschiderea celor de la The Cranberries. Trupa este bine cunoscuta pentru piesele Taking Care of Anna, Petrolize All Mice, Chased By The Housewives sau mai recenta Island of Love - promovata de Radio Guerrilla. Piesa Coalmine a fost difuzata in emisiunea Fresh On The Net a postului BBC 6 Music.
Mai multe detalii la www.myspace.com/theamsterdams & http://theamsterdams.com
Concerte:
27 februarie, Glasgow, The Admiral;
28 februarie, Edinburgh, Maggies Chamber;
2 martie, Londra, Purple Turtle - 65 Crowndale Road, Camden, Londra NW1 1TN; Bilete: £5 @ usa sau £4 in avans @
This email address is being protected from spambots. You need JavaScript enabled to view it.
4 March, Londra, The Cavendish Arms, 128 Hartington Rd, SW8 2HJ, Londra; Intrarea libera.
Puteti descarca in exclusivitate piesa The Amsterdams - Apple (Radio Edit).
http://icr-london.co.uk/The%20Amsterdams%20-%20Apple%20(Radio%20Edit).mp3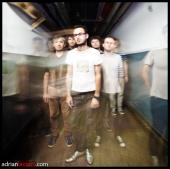 The Amsterdams live in London The purple turttle march 2011